---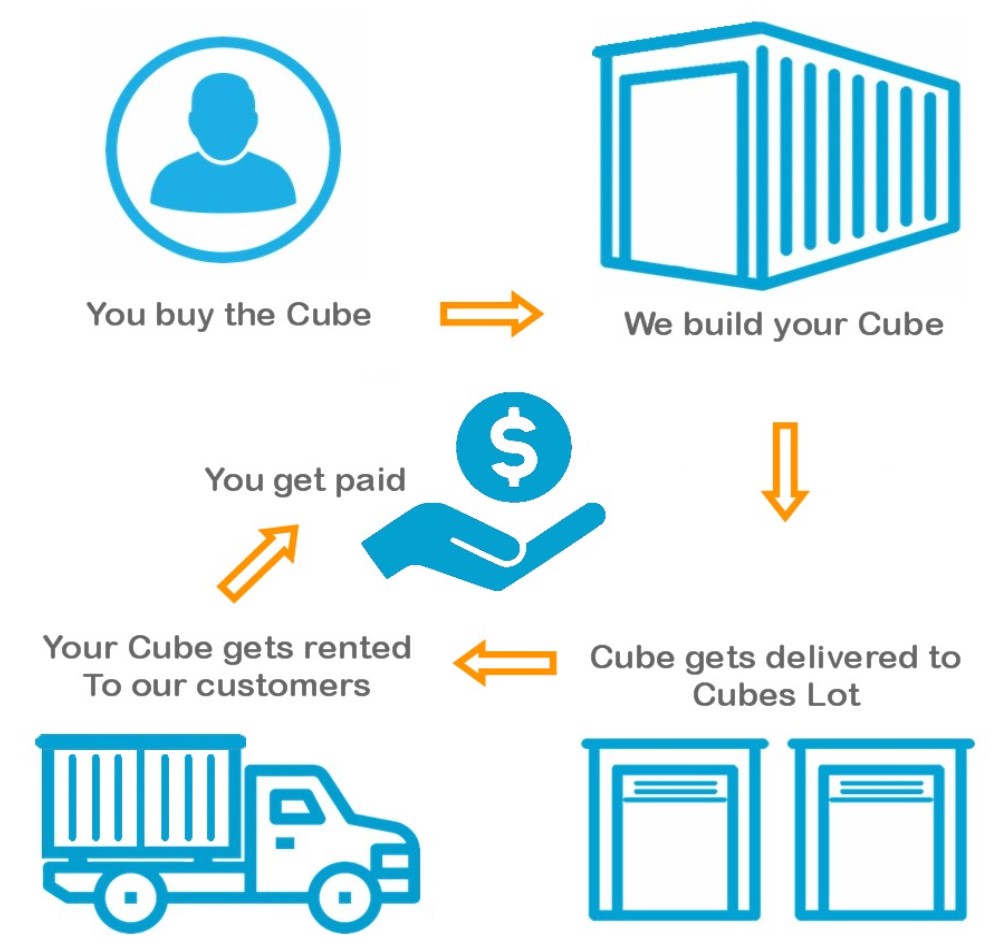 ---
As a result of the rapidly growing interest in Cubes, we're making it even easier to get involved. This secondary plan will allow anyone, even if they don't already own a franchise, to now participate in buying Cubes. Essentially this is called crowdfunding but instead of the "crowd," or investors, giving us money, they are providing us with Cubes that we add into the system. The Cubes they purchase from us will get a serial number and will then be sent to a location that most needs it - whether it's a location that is running low on Cubes, or a new Cubes location that didn't have the funding to start with a large amount of Cubes from the outset. The Cubes will be tracked via our new AI system. From the dashboard of this system, the investors will be able to track their units wherever they are in the United States, and be able to see real time info including pictures and rental status. This solves the issue of making more units available for customers, as well as allows new franchises to get started at a lower costpoint by negating the need to purchase a set amount of units upfront. With this plan, prospective new franchisees not only don't need a specific amount of capital before being able to invest in Cubes, they can essentially start up with nothing more than the purchase of a Cubes rollback for which a loan is easy to obtain given that it's titled and can be held as collateral. If you have interest in starting a franchise call Mike Good at 484-987-5111
---
Once bought, the Cube is 100% owned by the investor, who in turn agrees to lease the Cube to Cubes Storage for twenty (20) years. The Cube will be fully guaranteed through the company, which covers any and all damage and maintenance to the unit, and is guaranteed to be in service for the duration of the twenty (20) years. Payment must be received in full before any units are put into circulation, but are estimated to be built and in use within 8-12 weeks after being purchased.
So what does the return on this investment look like? Investors receive 55% of the monthly rental cost of their Cube(s) with no additional work on their part beyond purchasing the unit. The remainder of the monthly rental fee is divided between the location handling the Cube(s), and Cubes Storage Corporate which allows them to take care of every other aspect of ensuring your Cube(s) remain profitable. This includes both the delivery and pickup of the units as well as all scheduling and customer service, thorough cleaning and routine maintenance, providing a secure lot where the Cube(s) can be stored, covering insurance for the Cube(s), and funding advertising to make sure your Cube(s) stay rented. The location and Cubes Storage Corporate receive 23% and 22% respectively, as can be seen in the following chart:
---
---
To put all this in perspective, the best savings accounts might pay 4% per year or 80% over a twenty (20) year period and the average managed, move-in-ready rental property can take close to 15-20 years to pay itself off. In contrast, A Cube will make you 20% per year or 400% over 20 years! The goal is to let your money work for you in the most risk-free way possible. Following this plan, a Cube will pay itself off in 5 1/2 - 6 years, after which it's all profit.
For more info call Mike Good at 484-987-5111 or email at [email protected]
All payments get sent to:
Cubes Storage
234 Blue Mountain Rd
Schuylkill Haven PA 17972
A modern storage solution - that is the vision of Cubes. It may sound simple, but some of the best ideas often are. See, we truly believe in our community's need for this product, which is why we have zero doubts about its success. We offer storage solutions that are both more convenient, and more affordable for our customers. Our services span the entire storage spectrum from portable units and moving assistance, to having traditional self storage units for rent. No other storage company offers as many options - not amongst their services, nor in regard to the actual features of their units. It's this attention to detail that will not only set us apart from the rest but ultimately help us earn the title of industry leader.
Constructed out of high-grade aluminum sheeting, Cubes are made to withstand even the worst weather. The dual-layer walls allow for moderate insulation while the uniquely designed moisture-control floor will guarantee that our customers' belongings stay nice and dry. Ventilation throughout every unit also reduces risk of mold and mildew build-up. Additionally, each Cube is outfitted with lights and power outlets for increased functionality. Not to be outdone by the interior features however, the exterior boasts a distinctive and modern design all of which utilizes a low-e coating to enhance the life of the materials as well as maintain a comfortable temperature within the Cube. Cubes' units are also patent pending protected to keep other startups from copying our design.
We expect our portable units to account for the majority of our sales. What exactly does being portable entail? First, we bring the Cube to the customer using our specially designed trucks. The trucks are equipped with conveyor chains that make loading and unloading the Cubes as efficient as possible while also ensuring that any goods inside remain unharmed. Every Cube also comes standard with tie downs in both the floor and walls which further protects the customer's property from shifting during transit. Once at the customer's house or business, they are free to fill the Cube at their leisure and have the choice of either keeping it at their property for the duration of the rental or having it moved, in which case our crews will facilitate moving the loaded Cube to the desired location. For those customers who intend to use the Cube for moving, we offer the option of using one of our full service moving crews to help them pack and load their items as well as unload them when they've reached their destination. This crew can either be assembled by the location owner or passed on to a third party. When the customer is finished with the Cube, we pick it up and deposit it back on one of our lots. The brilliance of Cubes is that in addition to their capabilities as portable storage, they can also be kept on the lot as traditional storage units from which point they can remain stationary or be moved at the customer's discretion. Our virtual assistant automatically sends out invoices and late fees, and also lets customers reserve, book and pay online. The goal is to tailor our product and services to the customers needs creating a modern, cutting-edge storage experience that's currently unrivaled in the storage market. Because when it comes down to it, this customer-centric approach is really what puts Cubes on a level of its own.